Categories
16000mAh

Solar Panel Charger for Laptop (31 Unique Adapter Tips)
• Rating:
• Model: Solar Panel Charger
• Battery Weight:
• Battery L*W*H:6.7" x 3.7" x 0.9"
• Chemistry: li-ion
• Color: Black
• Capacity: Black
Laptop Battery Description:
Highlights:

Power: The nice thing about this Electric Eye Multicrystal Silicon 16000mAh Solar Laptop Battery Panel Charger is that if you don't have sun, you can still have portable power by charging up the 16,000mAh internal battery in a wall socket and waltzing off to wherever it is you need backup power. It just takes less than 3 hours of wall charging to fill it up and the internal battery provides 3 - 5 hours of run time for your laptop with a full charge.

Portability: The whole thing folds up nicely into a little package. About 6.7" x 3.7" x 0.9", and weighing just 0.94 pounds, means that this is highly portable.

31 Unique Adapter Tips: 15pcs Laptop PC Connectors and 16pcs Mobile phone and Digital Products Connectors.

High Capacity Solar Charger and Battery - the perfect green tech gadget for the modern traveler. With a powerful 16,000 mAh battery and 31 unique adapter tips, this solar laptop battery charger will power and charge just about any portable electronic device. No more messy cables, no more multiple power adapters, this handy tech gadget will save users both money and frustration.
When you power on the notebook (laptop), just choose the 19V Charging Voltage, and only charge for the right voltage, if not the right one, it can't work. At the same time, the hybrid solar laptop battery charger supports for manual adjustment. Intelligent overpressure also has the overcurrent protection, when manually select the wrong time, it will automatically shutdown. This portable solar charger also comes with a voltage selection button to ensure full compatibility with a wide variety of electronic products, such as; MP3/MP4 players, portable DVD players, mobile phones, or any other USB powered device using the built-in 5V USB port. Not enough power?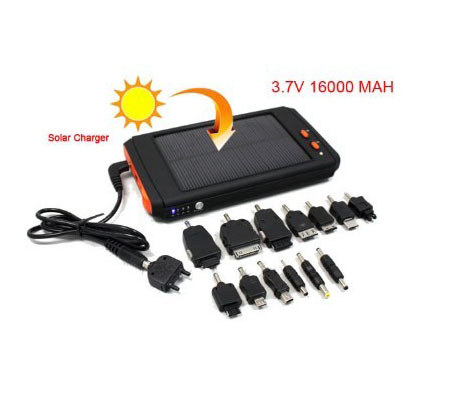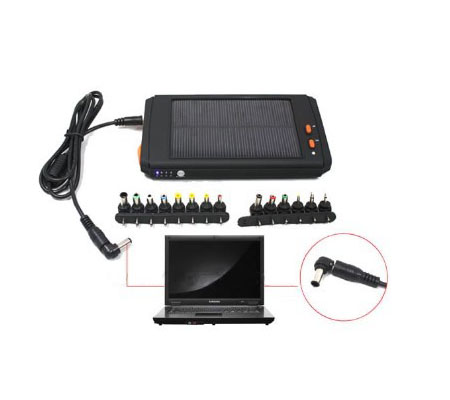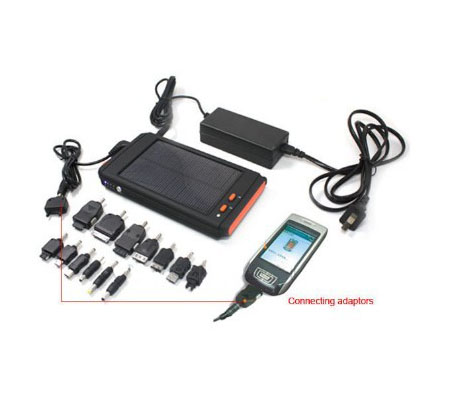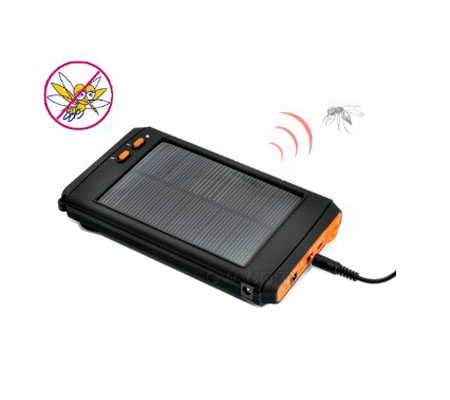 100% Safety Approved
This universal power adapter is NOT built cheap. It is built strong and durable and comes with important safety features such as overload protection-- to make sure extra electricity is never sent to your electronic devices, and short circuit protection-- to protect your electronics when accidentally connected with an incompatible adapter tip. If you want to power your expensive electronics on-the-go, then it will help you do that, all day long, and all while keeping your electronics 100% safe from harm.
Specifications:
15 interchangeable tips to fit HP, Dell, Lenovo, Asus, Acer, SONY, Toshiba and other laptop brands
Compatible: Notebook, Mobile Phone,iPod,3G iPhone,PDA, MP3/MP4 player,PSP,NDS,GPS etc
Battery material: Lithium ion polymer 3.7V 16000mAh
Output voltage: (Optional)5V/9V/12V/16V/19V
Output current: 1A/5V, 2A/9-12V, 4A/16-19V
Charging voltage: 100~240V AC/DC
Charging current: 2A (max)
Charging Time (Max.): <3 hours
Electric eye dimension: 120mmx80mm
Working environment temperature: -10 °C to +70 °C
Material of electric eye multicrystal silicon solar
High solar energy convert efficiency: over 16%
use super-iron shell explosion-resistant extrusion, safe and reliable in the world
Overload protection and short circuit protection safety features
Material of electric eye surface 1mm chemically toughened glass
Ultrasonic mosquito killer: 40~80000HZ auto frequency conversion
Available distance of mosquito killer: 100 SQFT
Flashlight: Ø10mm white LED
Product Size/Weight: 170x95x25mm/430g
Accessories:
 - AC100~240V Adaptor 1pc
 - Laptop PC connectors 15pcs
 - Mobile phone and Digital products connectors 16pcs
 - Universal Connecting Cable 2pcs
 - Black bag
 - English Manual